Cuba Update 10 September 2020
Cuba criticises 'media blockade' around its Covid-19 record
Cuban Foreign Minister, Bruno Rodriguez, has condemned the international media's blackout on the country's progress against the coronavirus pandemic.
Despite the fact that the island is the only one in Latin America to have a vaccine candidate, little information about this has been shared: "Ignoring or censoring successes is part of the media blockade," he tweeted.
On 20 August, just before Cuban television was about to livestream a programme about the start of trials for Cuba's COVID-19 vaccine, YouTube management disabled a Cuban news channel's broadcast of the discussion.
Read the full report of Bruno Rodriguez's statement
What media moguls don't want you to know: Youtube and Google attack Cuba and Venezuela
Students begin phased return to school under strict hygiene measures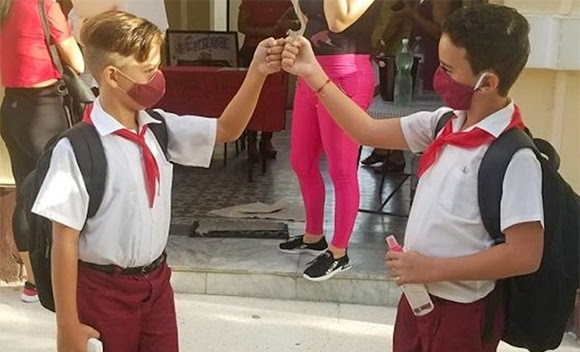 Hundreds of thousands of students returned to schools in central and eastern Cuba on 1 September wearing mandatory masks and received by health workers at their school gates. However, 355,000 students in Havana and a few other towns in the west of the island remain at home following an increase in COVID-19 cases in some provinces.
School start times will be staggered to avoid all years moving around buildings together. Secondary and higher education timetables have also been scheduled on alternate days so that they can be used by nearby primary schools to ease the overcrowding of classrooms. Random PCR tests will also be carried out at schools to detect possible asymptomatic cases.
Televised classes will continue for those students not returning, including special daily broadcasts of lessons for those in special education and art schools. The only exception in the capital will be state day-care centres, which have not completely closed.
Daily arts classes broadcast on national TV
Cuba presents its COVID-19 vaccine to international health authorities
On 2 September Cuban scientists presented the progress of the island's COVID-19 vaccine candidate,' Soberana 01', to an online meeting of representatives of the Pan American and World Health organisations (PAHO/WHO).
The first stage of clinical trials began on 24 August with a group of twenty people aged from 19-59 years old. The second phase, scheduled for 11 September, will increase the sample to include 676 volunteers.
"The Soberana 01 vaccine candidate is applied in two doses, the first day that we call zero time and then a second dose is given in 28 days," explained Dr Sonia Pérez of Cuba's Finlay Institute.
Havana introduces curfew to curb new coronavirus peak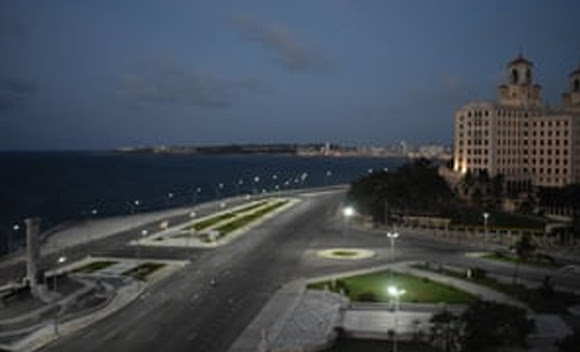 Havana's governor announced an overnight curfew from 7pm-5am, ban on travel from the Cuban capital to other provinces and greater restrictions on the circulation of vehicles on 27 August in a bid to curb a new peak in coronavirus cases.
The new measures came into effect on 1 September and will last for 15 days said Governor Reinaldo García Zapata, at which point the situation will be re-assessed.
Cuba had mostly contained its coronavirus outbreak by the end of June, by isolating patients and conducting rigorous contact tracing, and eased lockdown restrictions. However at the end of August there was a spike in cases in the capital reaching higher numbers than at the start of the pandemic.
The Revolution within the Revolution – Celebrating 60 years of the FMC
Before the Cuban Revolution women made up 5% of the workforce – today they are almost half. They are the majority of judges, lawyers, scientists, technical, finance, health and public service workers. More than half of Cuba's international medical volunteers are women, and at 53.2%, the island has the second highest number of women MPs in the world.
At the heart of all of these achievements has been the Federation of Cuban Women (FMC), whether advising government or organising community activists, the organisation has advocated for or organised women since its formation on 23 August 1960.
Watch our online celebration of the FMC featuring speakers from Cuba, the UK and US
Read a history of the FMC and its major achievements from July's CubaSi
Motion to congratulate FMC tabled in the Scottish parliament
Cuba Solidarity Campaign c/o Unite, 33-37 Moreland Street, London EC1V 8BB, UK
Telephone: +44 (0)20 7490 5715 | Fax: +44 (0)20 7490 3556 | Email | www.cuba-solidarity.org.uk
This email was sent to ………. Click here to unsubscribe | Click here to subscribe | Privacy Policy
Cuba Solidarity Campaign | CSC Data Protection and Privacy Policy

CSC Privacy Policy